DROUGHT ALERT: 15% MANDATORY CONSERVATION STILL IN EFFECT FOR THE TRI-VALLEY FOR 2022
in this third year of drought conservation is critical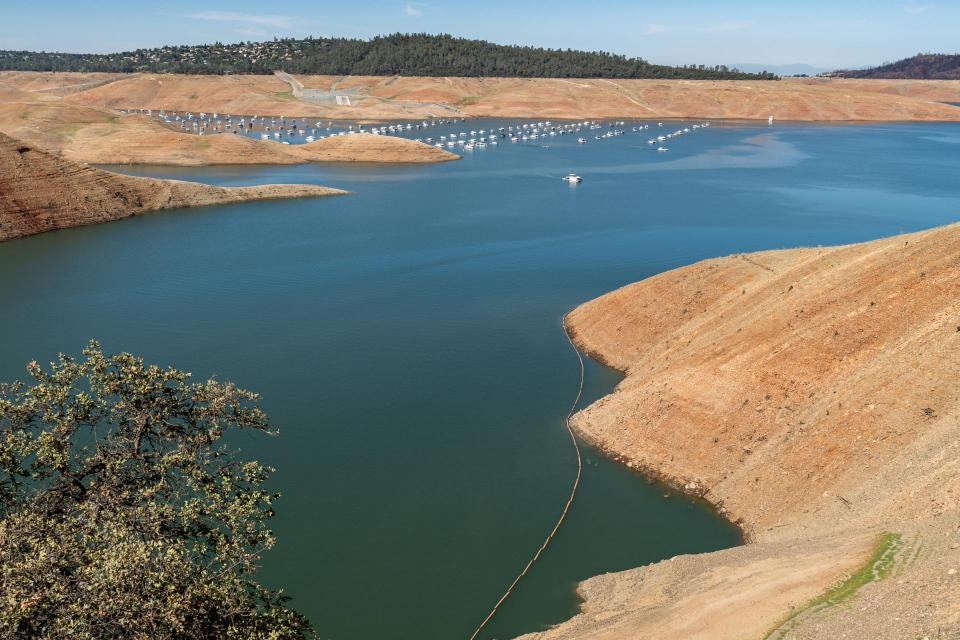 The drought conditions in California and particularly Northern California are real. We are experiencing an unprecedented drought. The 2020-21 Water Year was the driest year on record for the Tri-Valley. Now January and February have set new records for lack of rainfall and no significant storms are forecast for March.
On March 18, 2022, the Department of Water Resources (DWR) cut the State Water Project allocation down to 5%. A decrease from the previously set 15% allocation earlier this year. The revised allocation significantly limits the amount of new water available to the Tri Valley. This will be the third consecutive year of drought conditions and reduced allocations of State Water Project water.
Zone 7 has proactively planned for multiple dry years, but conservation is an important part of the water supply portfolio. Due to the significantly reduced availability of State Water Project water in 2020, 2021 and now 2022, the Agency has been relying heavily on the groundwater basin, which holds the imported water Zone 7 banks there during wet years to sustain the Tri-Valley during the drought. However, that supply will only stretch so far, and conservation is a key piece to prolonging the supply held in the groundwater basin.
On September 1, 2021 the Zone 7 Board of Directors voted unanimously on a resolution declaring a Drought Emergency and Stage 2 Water Shortage Emergency. This declaration includes mandatory 15% conservation from all Zone 7 retailers including California Water Service, City of Livermore, City of Pleasanton and Dublin San Ramon Services District. Each jurisdiction has enacted their own measures for achieving 15% conservation. Please visit the resources below for information on your service area.
With Zone 7's declaration of a Local Drought Emergency, implementation of construction projects to improve water supply reliability can be expedited.
Retailer Water Conservation Measures and Regulations:
Zone 7 does not set any specific regulations for retailers to implement to reach the 15% mandatory conservation target, these are set by individual jurisdictions. Check below to learn more about measures and regulations set by your water retailer or city.
As of September 21, 2021, DSRSD is operating under a Stage 2 Water Shortage Emergency, which requires increased regulations which are as follows:
To learn more about DSRSD's mandatory water use restrictions, visit www.dsrsd.com/outreach/water-conservation
There are two water service providers in Livermore – the City of Livermore (Livermore Municipal Water) and California Water Service (Cal Water). The following watering restrictions now apply to all properties within city limits, regardless of their water service provider.
On Monday Sept. 27, 2021 the Livermore City Council enacted the following mandatory water use restrictions:
On Tuesday, October 5, 2021 the Pleasanton City Council declared a Local Drought Emergency and Stage 2 Water Shortage, with a 15% water use reduction compared to the same time period in 2020. This action does not include the activation of drought rates or excess use penalties. Conservation measures include:
*Special landscaping is defined as landscape dedicated solely to edible plants, recreational areas (i.e. parks, sports fields, golf course tees, fairways, and greens), recycled water use areas, and water-features using recycled water.
Last Water year's Rainfall was LOWER Than the Driest Year on Record
Our Stored Water Is Also DWINDLING
As a result of the dismal amount of rainfall, we need to use our stored water sparingly. Water in our reservoirs and groundwater "savings account" are being depleted as we rely on them during the drought.
where does our water come from?
The water that flows from your tap originated from a number of sources including snowpack, rainfall and underground aquifers.
The majority of the Tri-Valley's water supply is imported from outside the region. On average 70% of our water comes from the Northern Sierra Nevada Mountains as rainfall and snowmelt. Water from the Feather River Watershed is captured in Oroville Reservoir and flows downstream where it is delivered by infrastructure created and maintained by the Department Water Resources as part of the State Water Project (SWP) system.
The SWP system conveys the water from the Feather River Watershed and on through the California Delta. The majority of the water that comes to Zone 7 is then conveyed from the Delta to the South Bay Aqueduct to the Tri-Valley area. However, during dry years such as this one, the water available from the SWP may be severely limited, which is why we plan strategically to ensure we can sustain short cycles of drought by having water stored in underground aquifers or groundwater basins and surface water reservoirs.
The Livermore Valley Groundwater Basin is critical for the Tri-Valley in providing water in normal years and weathering short-term droughts, providing locally stored water when imported water is unavailable or limited. Zone 7 serves as the sustainable groundwater manager for the basin — recharging it in normal and wet years and carefully monitoring it during dry years to ensure it does not become overdrawn.
We also receive water in the form of rainfall runoff stored in our local reservoir, Lake Del Valle.
Drought periods, such as the one we are experiencing now, mean we use different sources of water, which may be treated differently as well.
IF WE ALL SAVE A LITTLE, WE SAVE A LOT
As drought conditions continue in 2022, we need the community's help in meeting the 15% conservation goal to preserve water for 2023, and perhaps beyond.  The water we all save this year, will help us weather another dry year next year. Please continue to help us reach the 15% goal. If we all save A LITTLE, we save A LOT.
A few ways you can help:
Check the resources below for more ways to save.