Arroyo Mocho Medeiros Reach Floodplain Reconnection Project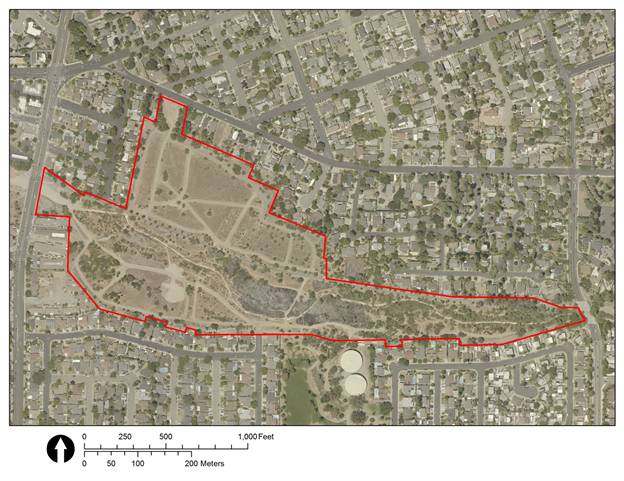 About the Project
Zone 7's Arroyo Mocho Medeiros Reach Floodplain Reconnection Project (Medeiros Project) is an integral component of our regional flood protection strategy for Arroyo Mocho within Zone 7's Service Area. The project is located within the Medeiros Reach (N/S College Avenue to Anza Way and E/W Arroyo Road to Holmes Street).
The Medeiros Project seeks to reduce flood risk by restoring flow to the natural floodplain in the Oak Grove Nature Reserve by lowering the trail. The lowered trail will allow high flows to overtop the trail and enter Oak Grove Nature Reserve. These types of storms are expected to occur in the 10-year to 25-year frequency range.
Construction schedule & updates
Zone 7 awarded a construction contract for the Medeiros Project in April 2022.
Construction is ready to commence on August 15, 2022.
Construction is scheduled to be completed by October 15, 2022.
After October 15, 2022, the contractor will be responsible for non-native and invasive species control work which will occur once a quarter until the following October 2023.
Expect typical construction noise during work hours (Monday - Friday, 8 am – 5 pm).
Arroyo Mocho Bike Trail will be closed for up to 7 weeks. Trail will be opened as soon as practical. Detour available.
Oak Grove Nature reserve will be closed for up to 2 months. Walking trails will be opened as soon as practical. Detour available.
Traffic control measures will be implemented to minimize impacts to vehicles, bicyclists, and pedestrians as much as possible.
Construction vehicles will be staged and parked off of College Blvd, please anticipate additional traffic on College Blvd.
For updated work locations and maintenance road/trail closures visit the Zone 7 Interactive Trail Maintenance Map.
Environmental Documents
Final Arroyo Mocho Initial Study/Mitigated Negative Declaration
Contact our Project Team
Please contact Jeff Tang at (925) 454‐5075 or jtang@zone7water.com with any concerns.
Please pardon any inconvenience this work might cause you. We ask for your patience as we coordinate construction activities with the City of Livermore. We thank you, in advance, for your cooperation in this matter as we work to maintain and improve your flood protection channels.