Girl Scouts install Zone 7 Little Free Library
Water wise literature now available to community
Livermore, CA (June 9, 2023) – Girl Scout Troop's 31253 installed a new Zone 7 Little Free Library at a ribbon cutting ceremony on June 7, 2023 at 5997 Parkside Drive across from the Pleasanton Sports Park. The literature in the Zone 7 Little Free Library will highlight the importance of water, shed light on today's water issues and provide water-saving resources for the community. The Zone 7 Little Free library encourages kids to become water-wise at a young age by providing free books to anyone in the community.
The Zone 7 Little Free Library is now open to the community and will permanently reside at 5997 Parkside Dr., Pleasanton, CA.
Girls Scout Troop 31253 dedicated months to this project and unveiled it to the Zone 7 Board of Directors at a special board meeting on May 17, 2023.
Troop leaders Christine White and Shella Orson were present as their troop presented the Zone 7 Little Free Library to the public for permanent installation. The scouts of troop 31253 are Alivia Rodriguez, Annabelle White, Evelyn Preston, Ingrid Vaughan, Kaitlyn Argueta, Lauren Jeon, Madison Womack, Olivia Orson, Penny Fong, Piper Hartz, Skye Farquar and Rayleen White.
Zone 7 Directors Angela Ramirez Holmes, Kathy Narum, Laurene Green, and Pleasanton City Councilmember Valerie Arkin were there to recognize the troop's contribution to the community.
Afterward, Zone 7 celebrated the troop's accomplishment with an ice cream party for the Girl Scouts in the demonstration garden.
Photos courtesy Zone 7 Water Agency: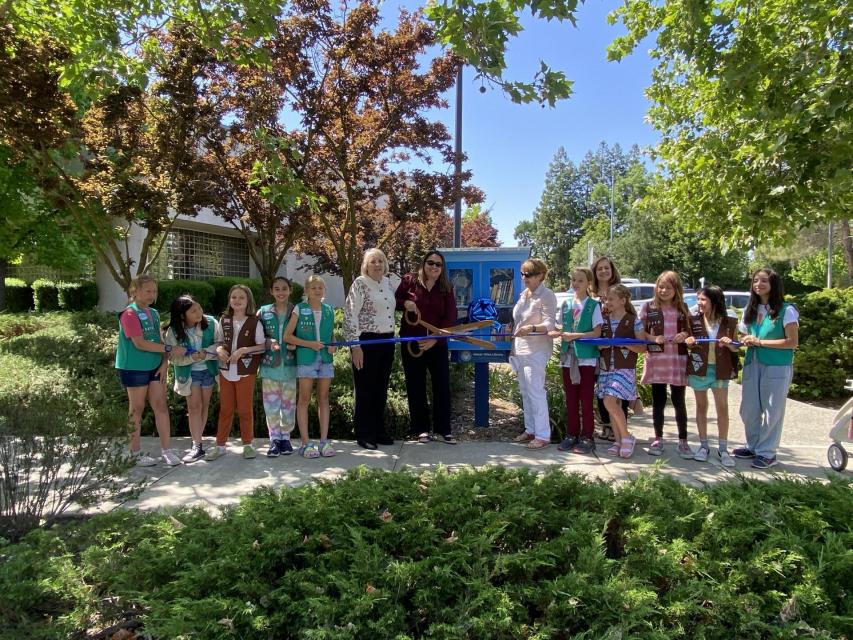 Photo: Director Angela Ramirez Holmes cuts ribbon, surrounded by Director Kathy Narum (left), Director Laurene Green (right) and Troop 31253