SEVEN LIVERMORE JOINT UNIFIED SCHOOL DISTRICT STUDENTS RECEIVE "ONE WATER AWARDS"
LIVERMORE, CA (March 16, 2023) - Seven Livermore students received special recognition from their local water agencies at last week's Livermore Joint Unified School District (LVJUSD) Science Odyssey event for highlighting water in their science projects.
The City of Livermore has sponsored the "One Water Awards" for the past eight years at this 1st – 12th-grade district-wide science fair. Zone 7 Water Agency (Zone 7) became a cosponsor in 2020 and California Water Service (Cal Water) became a cosponsor in 2022.
These awards are for students who completed exceptional science projects related to drinking water, recycled water, wastewater, or stormwater topics. Livermore's water agencies hope that these projects help foster students' understanding and appreciation of our most important resource – water.
Congratulations to this year's One Water Award winners:
Grand Prize Winners
Vaishnavi Menon & Dia Sajin
Emma C. Smith Elementary School
Project: Landscaping with Native Plants
1st Place Winner (Elementary School Category)
Isha Kamireddy
Lawrence Elementary School
Project: Is it possible to take longer showers without wasting water?
1st Place Winner (Middle School Category)
Karl Blystad
Mendenhall Middle School
Project: How do we get Livermore out of Drought?
1st Place Winners (High School Category)
Carly Thinfen, Isha Rajavel, & Elisha Théréné
Granada High School
Project: Quality of Various Water Sources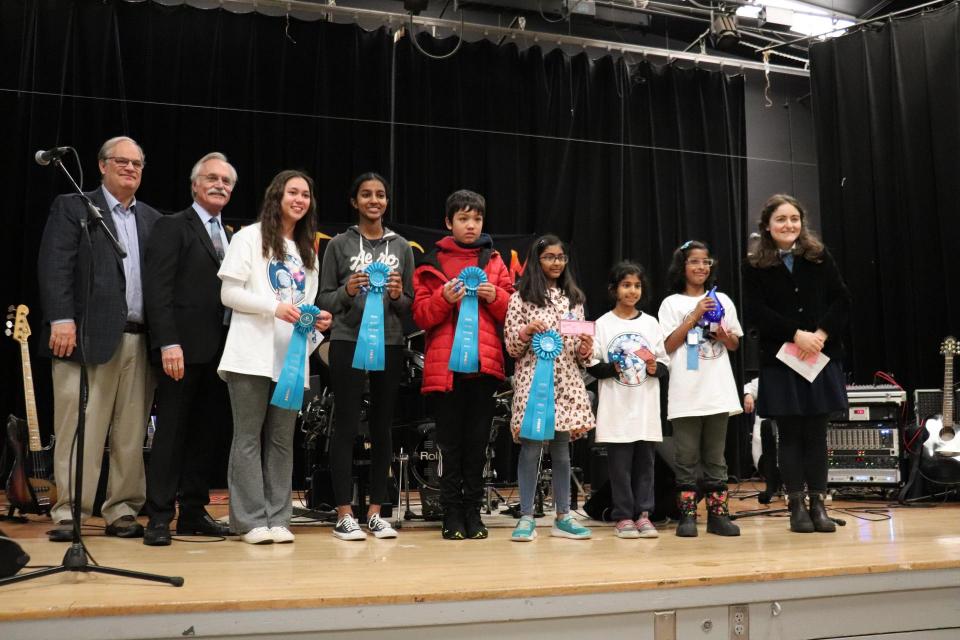 Students receive their One Water Awards from Zone 7 Director Dennis Gambs, Livermore Mayor John Marchand, and Cal Water Conservation Coordinator Margaret Golden.

ABOUT LIVERMORE'S WATER AGENCIES
Zone 7 Water Agency treats and manages water supplies for eastern Alameda County, including the city limits of Livermore. Drinking water service is provided to Livermore by its water retailers – Cal Water and Livermore Municipal Water.

CONTACTS
City of Livermore: Natalie Croak, (925) 960-8144, nlcroak@livermoreca.gov
Zone 7 Water Agency: Alexandra Bradley, (925) 454-5048, abradley@zone7water.com
California Water Service: John Freeman, (925) 447-4900, jfreeman@calwater.com