Tri-Valley Water Agencies Mandatory Water Usage Restrictions Remain in Effect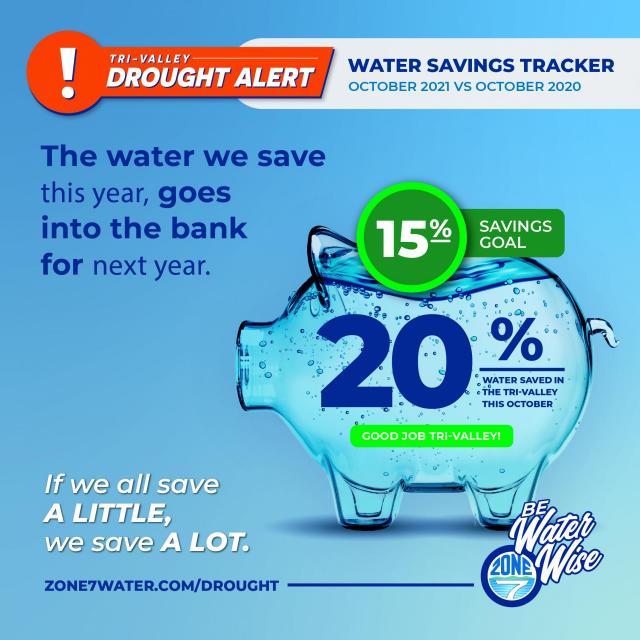 TRI-VALLEY, CA (November 10, 2021) - The Tri-Valley continues to battle unprecedented drought conditions despite October's atmospheric river. While recent storms brought some much-needed relief, the overall drought situation remains bleak, and conservation is still needed.
However, the good news is that in October the Tri-Valley stepped-up their conservation efforts and exceeded the Tri-Valley's 15% water savings goal. The Tri-Valley used 20% less water in October 2021 compared to October 2020. Water agencies are hopeful that the message continues to be received and residents continue their water-saving habits.
In September, Zone 7 Water Agency declared a Drought Emergency and Stage 2 Water Shortage Emergency. This declaration included mandatory 15% water conservation from all Tri-Valley water service providers, which are the Cities of Livermore and Pleasanton, Dublin San Ramon Services District (DSRSD), and California Water Service (Cal Water). In response to Zone 7 Water Agency's Drought Emergency, the Tri-Valley's water service providers have activated the mandatory water restrictions below.
DSRSD
Outdoor irrigation is limited to occur between 9 p.m. and 6 a.m. to reduce evaporation
Outdoor irrigation during and within 48 hours after measurable rainfall is prohibited
Outdoor irrigation is limited to no more than three non-consecutive days per week
From November 1 through February 28, outdoor irrigation is limited to one day per week
Customers must repair or stop water leaks upon discovery or within 24 hours notification by the District.
A full list of water usage restrictions can be found at www.dsrsd.com/outreach/water-conservation
City of Livermore and Cal Water
There are two water service providers in Livermore – the City of Livermore (Livermore Municipal Water) and Cal Water. The following watering restrictions now apply to all properties within city limits, regardless of their water service provider.
All landscaping within the City of Livermore may now only be watered a maximum of three times per week. Properties with odd numbered street addresses may only water on Mondays, Wednesdays, and Fridays. Properties with even numbered street addresses may only be watered on Tuesdays, Thursdays, and Saturdays. No watering is allowed on Sundays.
No sprinkler irrigation is allowed between 9:00 a.m. and 6:00 p.m.
Watering is allowed at any time during a property's approved watering days if using a hose with an automatic shut-off nozzle, a hand-held container such as a watering can, or a drip irrigation system is used.
To learn more about Livermore's mandatory water use restrictions, visit www.cityoflivermore.net/drought or call the City of Livermore Drought Hotline at (925) 960-8180.
City of Pleasanton
Only watering lawns and ornamental landscaping between the hours of 9 p.m. and 6 a.m. the following day; with the exception of drip irrigation, hand watering with a shut-off nozzle equipped hose, special landscaping*, and while conducting irrigation system checks.
Watering outdoors is prohibited during and 48 hours after of measurable rainfall.
Repair leaks or breaks within 8 hours of discovery or notification.
Restaurants shall serve water to their customers only when specifically requested by the customer.
Operators of hotels/motels shall provide their guests the option of choosing not to launder towels & linens daily.
To learn more about Pleasanton's mandatory water use restrictions, visit the City's website.
For more tips and tricks on ways to conserve water, visit the Tri-Valley water agencies' websites: