Zone 7 Water Agency Releases FY 2020-2021 Annual Report to the Tri-Valley Community 
New Digital Design highlights key accomplishments from staff and partners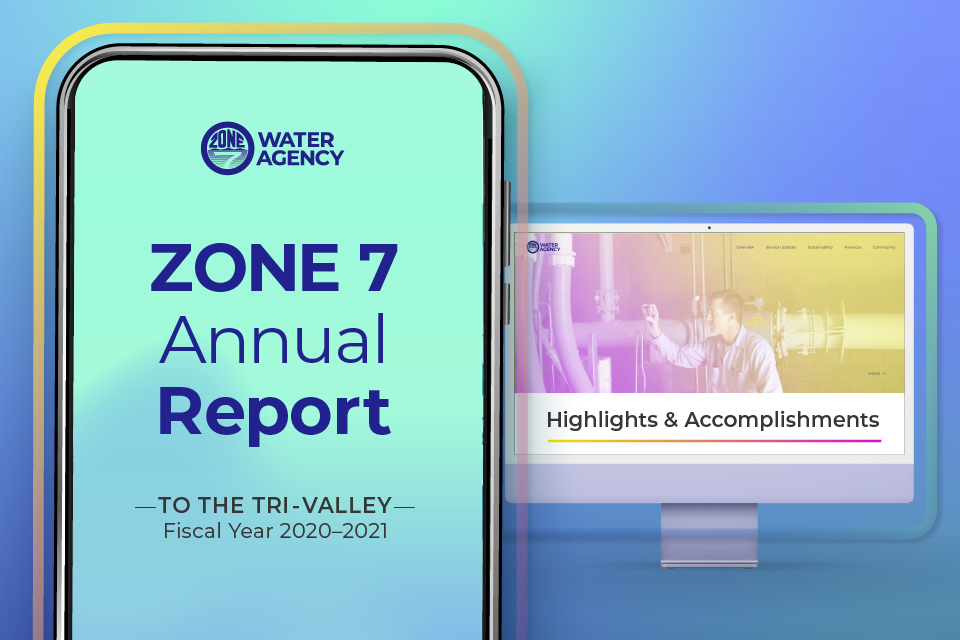 LIVERMORE, Calif. (February 7, 2022) – Zone 7 Water Agency published their Annual Report for the 2020-2021 fiscal year, now available online. Zone 7 is committed to delivering safe, reliable, efficient, and sustainable water and flood protection services. This year, the Annual Report is fully online and meets and exceeds the Americans with Disability Act (ADA) compliance and regulation standards. Residents of the Tri-Valley who use assistive technology will be able to browse and interact with the Annual Report with the new accessible website design.
"The release of this report by Zone 7 Water Agency gives the community confidence that despite uncertain times, our hardworking staff remained committed to the Agency's mission," said Zone 7 General Manager Valerie Pryor, "and ensured that we continue to deliver on our promise to serve the public."
The Annual Report provides information about the organization's efforts in delivering safe, high-quality water to its customers, enhancement of flood protection systems, and increased water reliability. Some notable achievements from the agency highlighted in the report include:
Upgraded both water surface treatment plants with major investments in ozone treatment to deliver high-quality water to the community. Ozone water treatment went online in 2020 at the Del Valle Water Treatment Plant and is scheduled to be completed in spring 2022 at the Patterson Pass Water Treatment Plant.
Continued to study and invest in important water reliability projects to increase water supply and storage for the Tri-Valley.
Secured $500,000 in grant funding to complete the Alternative Groundwater Sustainability Plan Update and associated studies.
Launched a completely redesigned ADA accessible website featuring a vibrant new design with upgraded cybersecurity protocols for increased transparency with the public.
To read Zone 7 Water Agency's Annual Report for the 2019-2020 fiscal year, visit: zone7water.report