Annual Water Quality Reports

Step inside the world of water and learn how Zone 7 Water Agency ensures that drinking water is safe, clean and sustainable in these Water Quality Reports, also commonly referred to as the Consumer Confidence Reports.
The most recent easy-to-navigate 2020 Consumer Confidence Report features graphics illustrating the sources, treatment, safety and testing of local water. Explore the report to learn about new and ongoing initiatives to further improve water quality, including the installation of ozonation treatment and efforts to further reduce common contaminants of emerging concern, such as PFAS.
All Zone 7 water supplied in 2020 met the regulatory standards set by the state and federal governments and, in almost all cases, the quality was significantly better than required.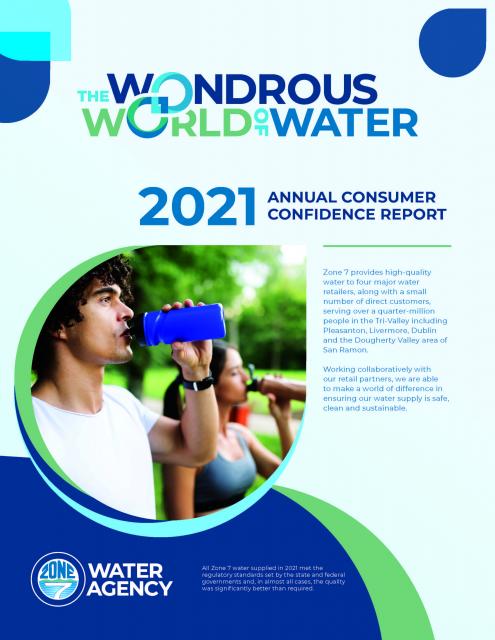 Download the 2020 Consumer Confidence Report.
Highlights of the 2020 Annual Consumer Confidence Report include:
2020 Water Quality Testing Results
Source Water Assessment
Zone 7 Water Treatment Process Details
Rainfall and Water Storage Conditions
Patterson Pass Water Treatment Plan Expansion Project Update
Archive of Consumer Confidence Reports
To view Source Water Assessment Reports, click here.