Tri-Valley's Flood Protection System

We take flood preparedness seriously because we want to ensure the homes and businesses of the Tri-Valley area are as protected as possible if flooding occurs, and that our families and economy continue to thrive, if there is extreme weather.
The best way we can reinforce our economy is by supporting the stream and channel banks, arroyos and reservoirs that create a delicate balance of networked flood protection for our community.
We own and maintain 37 miles of local flood-protection channels, which make up about a third of all of Tri-Valley's channels and creeks. The remaining channels are owned either privately or by other public agencies, whom are responsible for repairs and maintenance.
Tri-Valley's flood-protection system begins at city-owned storm drains on local streets. Storm water flows through underground pipelines into creeks or man-made channels feeding into Arroyo Mocho, Arroyo las Positas and Arroyo del Valle. These larger channels converge with Arroyo de la Laguna, which ultimately drains into San Francisco Bay through Alameda Creek. In addition to flood protection, the channels also have recreational benefits and serve as habitat.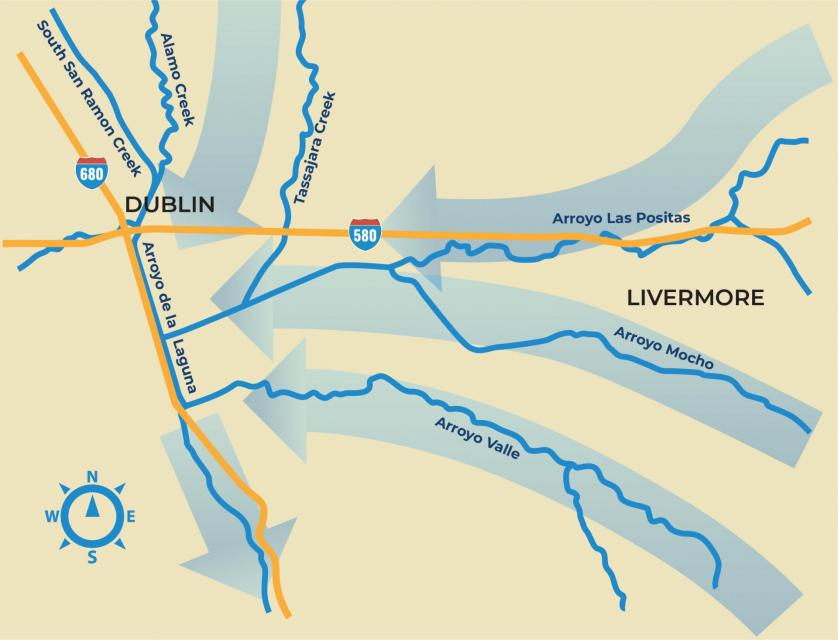 Channel Maintenance
To ensure that our flood-protection channels are ready for the next big storm event, we conduct routine maintenance which includes:
regular channel inspections to ensure all banks are stable
regular trash and debris abatement to ensure channels flow freely and groundwater is protected from contaminants
embankment and drain structure repairs as-needed
vegetation management which plays an important role in bank stability and fire prevention
sediment removal, which is removal of fine-grained sands and clay that have settled out of the water and built up, reducing channel capacity
pest control
Emergency Repairs
Zone 7 also administers an emergency response program that prepares us to act quickly and minimize the loss of life and property should a flood occur. For federally declared storm disasters, Zone 7 may apply for reimbursement from the Federal Emergency Management Agency or the U.S. Army Corps of Engineers.
Community Preparedness
At Zone 7, we want to empower our community to be prepared for rains and emergency conditions, and engage our residents in caring for our watershed. Our Get Flood Ready section contains helpful information on things your family can do year-round to be ready when the rainy season arrives.
Additionally, find information on where you can locate sandbags and other preparedness resources in our Flood Preparedness section.