Rebate: Water-Efficient Lawn Conversion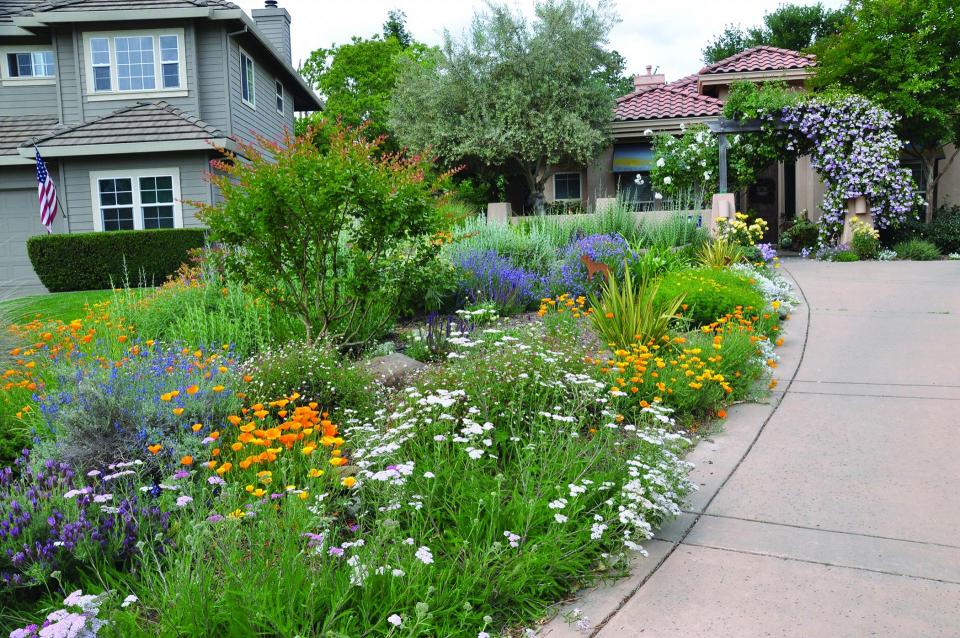 Check Out Our Rebate Amounts for residential and Commercial Properties!
Zone 7 Water Agency will pay you to remove large sections of thirsty, (water-greedy!) irrigated lawn and convert the area to an attractive water-wise alternative. You can reduce your water bills, enhance your property, and improve the environment. It's simple and smart.
rebate amounts
Single Family Residences
$1 per square foot, up to $2,000
Commercial or Multi-Family Properties
$1 per square foot, up to $6,000
How does it work?
Submit your completed application with plant list and design for pre-approval to Rebates@zone7water.com. Lawn Conversion Application Click here for a Project Grid Template

Zone 7 will review your application and contact you. If your application is accepted, a site visit may be scheduled and a Notice to Proceed will be issued.

With approval and Notice to Proceed, you can begin the work.

As project purchases are made, save all the plant, mulch, compost, and irrigation component receipts and submit them once construction is completed.

After construction, please email photos of the completed project to rebates@zone7water.com. A post construction inspection may also be scheduled.

Upon successful completion of the rebate terms, the rebate will be issued as either a credit on the customer's water bill or a check from your water service provider. It may take as long as 3 months for the credit or the check to be issued.
How long does it take?
It typically takes around 1-2 weeks for Zone 7 to review the application. Once a Notice to Proceed is issued, you have 120 days to complete the project. After completion, it may take as long as 3 months for the credit or check to be issued.
Project Eligibility requirements
Resident must be a potable water customer in good standing with Livermore Municipal Water, the City of Pleasanton or Dublin San Ramon Services District.

The area to be converted must currently be receiving regular sprinkler irrigation.

You must convert at least 100 square feet of lawn that is visible from the sidewalk with low or very low water-use plants such as drought tolerant California native and Mediterranean plants. All plants must be "low" or "very low" water use in the Water Use Classification of Landscaped Species (WUCOLS) database, or be found in the plant library at www.trivalleywaterwise.com.

Backyard lawn conversions can also qualify, provided a minimum of 200 square feet of lawn is converted in the backyard.

At least 50% of the project area must be covered with low-water-use plants when mature. Non-planted areas must be covered with at least three inches of mulch.

If residence is in a neighborhood governed by an HOA, an approval letter from HOA management needs to be submitted with the application.

All projects must be approved prior to lawn removal. Projects cannot begin until a Notice to Proceed has been issued by Zone 7 or your local water retailer.

Pre- and post-conversion site inspections may be required.

Conversion must remain installed for a minimum of two years.

Each water account must be individually metered to allow for evaluation of water savings. Lawn conversion rebates are available only while funds last, so apply soon!
Project Exclusions
Plants that are not listed as "low" or "very low" water use in the WUCOLS database or in the plant library at www.trivalleywaterwise.com
Artificial turf or projects that don't include plants
Non-permeable weed block materials
Front yard projects where there is less than 100 square feet of lawn converted
Back yard projects where there is less than 200 square feet of lawn converted
Non-permeable hardscapes, such as concrete, bricks or flagstone, that have been mortared into place
Retroactive conversions
California Water Service customers are not eligible for this program. Please click here to see California Water Service's rebate offerings.
Project Resources