The History of Zone 7 Water Agency


What did it take to shift control of vital water resources to the local level in the Livermore-Amador Valley? Ingenuity, persistence and overwhelming voter support.
Zone 7 Water Agency was officially born on June 18, 1957 when voters approved the creation of the Agency, which would be responsible for water resource management and flood protection in the area.
Long before Zone 7 was created, the critical issues of water supply, water quality and flood protection shaped the region's ability to prosper. During the first half of the 20th Century, a declining groundwater table and periods of drought had local farmers, vintners and residents worried about their livelihoods according to reports published in 1948.
The creation of Zone 7 in 1957 meant local control over water resource planning – an important means of finding solutions for the Valley's most pressing water supply, water quality and flood-protection challenges. Residents were involved in electing a seven-member Board of Directors, and financial support for the agency was set to come from local property taxes. This move came just three years after Valley voters had rejected a proposal for county-run water management that would lump them together with the Fremont area.
Since then, Zone 7 has undertaken and completed several major projects including the construction of the Mocho Groundwater Demineralization Plant, the Del Valle and Patterson Pass Water Treatment Plants as well as the more recent addition of ozone treatment at both plants which was recently completed at Del Valle and currently under construction at Patterson Pass.
The expansion of Zone 7's facilities, responsibilities and water treatment capabilities parallel the growth of the Tri-Valley area and its population density. In more recent times, the water agency has taken on a bigger role in statewide issues and measures to help sustain water supply in delicate areas.
Historical Gallery
Look Books
Zone 7's 50th Anniversary Book
"Quenching the Thirst, Quieting the Flood Waters."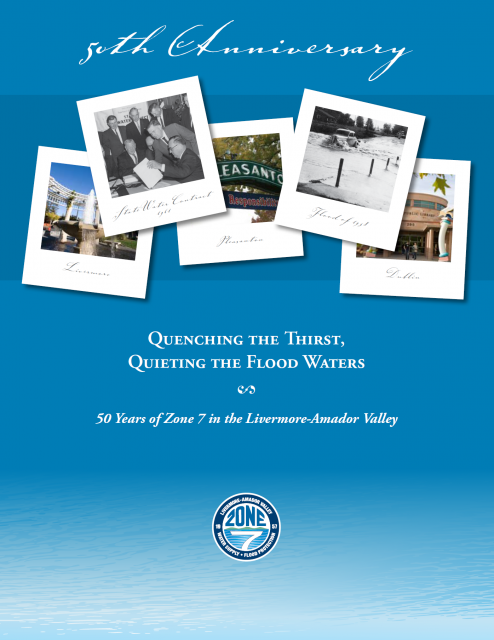 Download the 50th Anniversary Handbook
Zone 7's 60th Anniversary book
"Sixty Years Strong."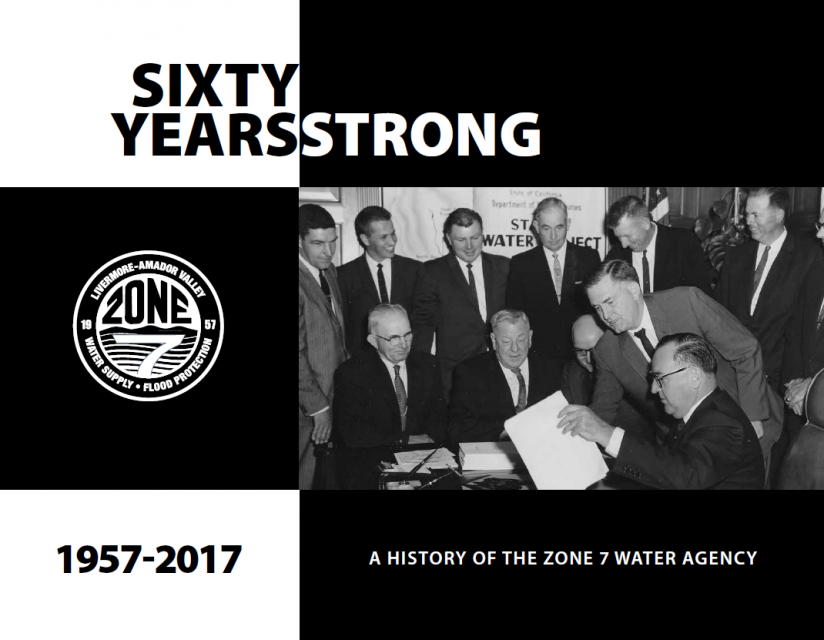 Download the 60th Anniversary Booklet