Patterson Pass Water Treatment Plant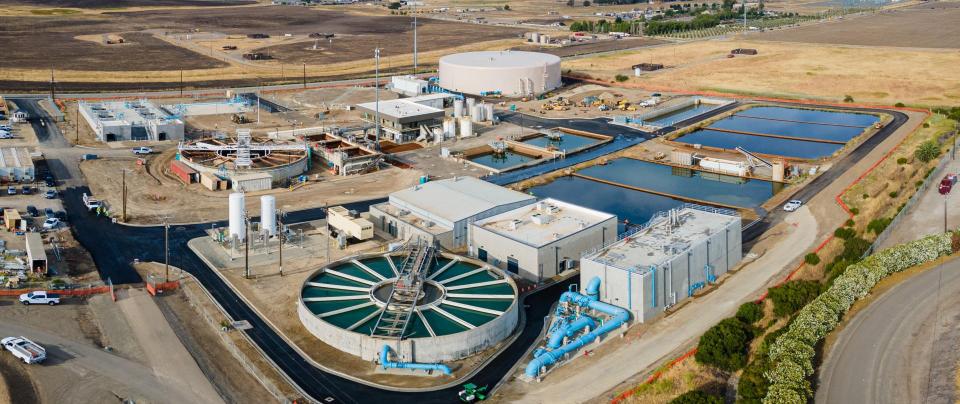 The Patterson Pass Water Treatment Plant has been serving the Tri-Valley since 1962, treating imported surface water from the adjacent South Bay Aqueduct using dual-media filtration and chlorine treatment techniques. The plant has recently been upgraded to add ozone treatment. The plant capacity has also been expanded from 12 million gallons per day (mgd) to 24 mgd.
In June of 2022, the plant completed major construction upgrades and now offers ozone treatment along with other major enhancements.
The plant's upgrades have improved treated water quality with the added ozone facilities, replacement of aging equipment, increased treated water storage capacity with the addition of a new five-million-gallon tank and now doubled the amount of treated water the plant can produce from 12 million gallons of water a day to 24 million gallons a day (MGD).
Patterson Pass Water Treatment Plant Fast Facts:
Location: Eastern Livermore
Treatment Capacity: 24 million gallons per day
Treatment Process: Dual-media filtration & ozonation
Learn More
Construction Schedule: Construction began in March of 2019 and completed in June of 2022.
Project Cost: The project cost $110 million for planning, design and construction and is funded by water rates, new connection fees and bonds.
FAQ: Updated project documents and progress reports provide more detailed information about the project.
Contact Information: For questions about this project, please contact Project Manager Mona Olmsted at (925) 454-5033 or by sending a message.